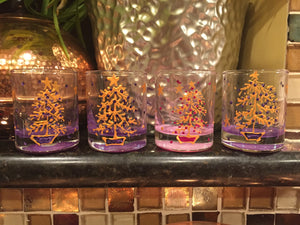 Hand-painted wine glasses, gifts and local artwork, designed by Mary Sears. Located in Herndon Virginia, just outside Washington D.C.
Welcome to my online store
Here are many of the unique, one of a kind glassware, tea towel and watercolor designs from Glorious Goblets These products are perfect for gift giving for almost any occasion. If you've seen something at a show and don't see it here, please contact me.
If you live in the Washington DC area, place your order online and avoid shipping charges by selecting "Customer Pickup" during checkout. I'll contact you when your order is ready.
Please note that many of the glasses that are pictured on this website are now discontinued or are experiencing shortages due to ongoing supply chain issues, as a result of the pandemic. I continue to paint the same designs on similar glasses, but it has become difficult to match glass. You can still order these designs, but it may be on a slightly different glass. Please contact me if you have a concern about this.